| | | | | | | |
| --- | --- | --- | --- | --- | --- | --- |
| | | | | | | |
| | | | | | | |
This site is dedicated to the history of the Resnitzky Family.
This site was built and maintaned by Uri Resnitzky who passed away suddenly at the age of 42 on November 3rd, 2007.
To read words in his memory written by his faher Peretz Resnitzky
click here
.
To a memorial page in his sister Dalia Resnitzky's website "teva veahava"
click here
.
See the video of the 2006 family re-union
See the video of the previous family re-union (1996)
See the video "Beit Aba - The story of Tova and Moshe Resnitzky"
See the video of Mote's family roots trip part I
See the video of Mote's family roots trip part II

In 1897 Gershon Resnitzky immigrated from the Kherson region in the Ukraine to Entre-Rios in Argentina with his wife Perla and 9 children. One of those children was my great-grandfather Leon Resnitzky. Two more children were born in Argentina.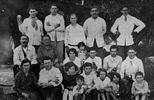 A small part of the Resnitzky/Pavlotzky clan around 1926
Leon Resnitzky married Cecilia Levit. They had 10 children one of them was my grandfather Moshe Resnitzky.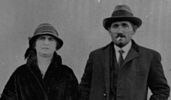 Leon and Cecilia Resnitzky in the early 1920s
Moshe Resnitzky married my grandmother Catalina Pavlotzky. They had 4 children one of them is my father Peretz (Pedro) Resnitzky.

Moshe and Catalina Resnitzky 1950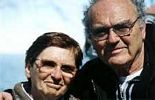 My parents Tzila and Peretz Resnitzky immigrated to Israel in 1955.

Yours truly, Uri Resnitzky
Please visit The Family Tree that contains 8 generations, over 890 people and 280 immediate families.
Have a look at the Family Photo Album which contains over 270 indexed family photos.
Many thanks to Hilel Resnizky for the genealogical research.
Some information was collected from Luis Schrayer's impressive family tree web site.
Photos recently contributed by Mote Resnitzky can be found here.
If you're interested in our family, please contact me via email at danny@cs.technion.ac.il or use the feedback form.
The old format Family Tree (not up to date)
---
Short stories and family history documents by Hilel Resnizky
---
Pavlotzky family short story by Haika Holtzman (Hebrew)
---
Poems and translations by Peretz Resnitzky (Hebrew)
---
Tom, Sean and Uri's Links
Sean and Uri's wedding web-site
---
Algorithmic Research (ARX)
Algorithmic Research (ARX) is a leading global provider of electronic-signature and data-security solutions. The company offers a wide range of high-end and state of the art products and services designed to simplify, secure, and accelerate electronic transactions. ARX specializes in designing and implementing easy to use, simple to deploy, electronic signature and security solutions, combining software and hardware products, for small, medium and large computing environments.
More information about ARX is available here

---
Teva Ve Ahava (טבע ואהבה)